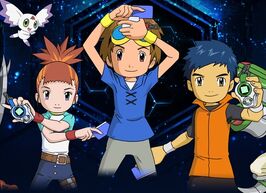 What are Tamers?
Digimon Tamers are special people chosen by the good Digimon as partners in their defense against the rampaging evil Digimon.
In Digimon Battle, you and your friends are Tamers. As a Tamer, you will travel with your Digimon between both worlds and help your Digimon digivolve and grow stronger.
Sounds easy, huh? But do you have what it takes to become a legendary Tamer? Can you help your Digimon become the very best it can possibly be?
Who Are They?
Takato Matsuki
Very typical elementary school boy. He is a little quiet, but hates to lose any fight or games he gets involved with. He loves Digimon.

One day, coincidentally he obtains the blue card which in fact has the amazing power to convert the card reader into a Digivice.

More interestingly his encounter with the Digimon, Guilmon, he always dreamt of in the Digitama form. From then on, Takato's adventure to be the greatest Tamer has started.
Henry Wong
Has a Hong Konger father and Japanese mother. Due to having a younger sister, he is calm and very mature for his age.

Also, under the influence of his technician father, he handles computers and the interenet well.

He treats his Digimon, Terriermon, as his friends, however hates Digimon's natural instinct to fight and evolve.
Rika Nonaka
Little rebellious and cynical girl. Has a strong belief that the Digimon is only good for battle / fight.

She and her Digimon partner, Renamon, battle alone to their way to becomimg the best Tamer there is.

However, since her encounter with Takato and his friends, here belief about the Digimon are starting to change.
Jeri Katou
She is Takato's classmate, and secretly admires Digimon. It also seem she loves the dog shaped hand puppet.

She hugged without hesitation Gilmon that Kazu was very scared of.
Becoming a Tamer
Tamer Levels

Levels
Level Title
Special Skills
1-10
Beginner Tamer
Special Skills
11-20
Bronze Tamer
-
21-30
Silver Tamer
Can enter the
Dungeon of Darkness
31-40
Gold Tamer
-
41-
Brave Tamer

Can Shout in Chat,
Can enter the the
Wind Valley

201-
Robust Tamer (must complete a special quest)
-
In a Digimon Battle, Tamers level up as well as Digimon. After winning a battle, both you and your Digimon receive experience points (EXP).
Every so often, you'll also receive a new Tamer Title, which reflects your experience and skill.
| | |
| --- | --- |
| Battle | Quarterfinalist Royal Nights Tamers |
| Battle Champion | Legend Tamer |

The Royal Nights Tamer and Legend Tamer are titles given to the most excellent Tamers. These players are recorded in the game's Hall of Fame. Are you good enough to be one of them?